Top Content Title
This is an additional section to be able to add content
Terms and Conditions:
CanSkate Helmet Policy
EFFECTIVE DATE: July 1, 2011 REVISED DATE: October 1, 2011
1.0 GENERAL
All Skate Canada member clubs and skating schools who offer a CanSkate program must ensure all CanSkate and Adult CanSkate participants up to and including Stage 5 must wear a CSA approved hockey helmet while on the ice. This policy also applies to all other Skate Canada programs, therefore Clubs and skating schools may choose to expand the use of CSA approved hockey helmets in their club as they see necessary. In general, anyone who lacks good control/balance when skating forward, backward and has difficulty stopping, as well as maneuvering around obstacles on the ice must wear a CSA approved hockey helmet.
Clubs and skating schools must ensure this policy is enforced during all skating activities including competitions, carnival days or any other special on ice activities throughout the season for this level of skater. This policy is a minimum standard. Sections, at their discretion, may impose a higher standard which all clubs and skating schools within the sections' boundaries must adopt and implement.
How should the hockey helmet fit?
A hockey helmet should fit snug to prevent any shifting and maximize protection. Make sure the chinstrap can be adjusted so it gently makes contact under the chin when fastened. For an adjustable helmet, open it to the largest setting and gradually begin to downsize the helmet until a comfortably snug fit is achieved. The helmet should rest on the head so that the rim is one finger width above the eyebrow and making contact with the top of your head.
Although most helmets are lined with protective foam, some helmets will feel better than others. Try on different brands of helmets for fit and comfort. All CSA certified helmets have a sticker indicating their certification.
Why only hockey helmets?
Hockey helmets are designed to help protect against head injuries occurring on ice, whether from a fall or collision. A bicycle helmet, for example, is designed to protect against head injuries should a fall occur while riding a bicycle. It is important to ensure that when a skater is on the ice, they are protected with equipment designed for their sport or activity.
Competitions
The competition schedule has been posted on: http://www.skatecanadasaskatchewan.com/competitions/. It is the competitor's responsibility to download the announcement, read carefully, and submit the completed entry form to the registrar of the competition. LATE ENTRIES WILL NOT BE ACCEPTED FOR ANY COMPETITION.
Test days
It is the responsibility of the skater to organize, pay and present himself (herself) at the correct rink on the correct day, at the correct time. Test day schedules and registration information can be found here.
Confirmations
There will be no confirmations except for those generated by the website. Skaters will be notified if a session is overbooked or if there are any other changes such as a session cancellation.
Cancellations
Ice allocations are done by the City of Moose Jaw and are out of the control of the Moose Jaw Skating Club. Check the website for any changes or cancellations. The Moose Jaw Skating Club directors will do their utmost to update the calendars on the Moose Jaw Skating Club website. However, the board can not be held responsible for missing or inaccurate information.
Ice Credits
Some skaters may have credits from overpayment or other sources. These can be used towards any Moose Jaw Skating Club program, with the exception of yearly fees (such as Skate Canada fees).
Ice credits cannot be transferred to another member of the Moose Jaw Skating Club.
Payment
Only payment methods identified on the club website will be accepted. No special arrangements will be accepted other than those arrangements listed in the MJSC website registration information pertaining to when payment should be made. Payment will only be accepted in full, or in installment as identified on the website. Skaters must have paid in full or the first website-generated installment before taking the ice. No exceptions will be made to this rule unless expressly arranged and approved by the board of directors in writing no later than 30 days in advance of the scheduled start of the skating session.
All payments shall be made in Canadian dollars (CAD).
We accept email money transfers and Visa/MasterCard. Email money transfers may take up to 24 hours to process through our system, so payment times should be planned accordingly. We reserve the right to deny services for accounts that have pending email money transfers, within that 24 hour waiting period.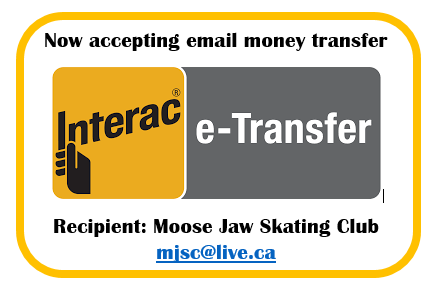 Declined Payments/NSF Email Money Transfers

There will be a $30 administration fee for NSF email money transfers and for all declined credit card transactions. In all cases of missed payments (NSF, declined credit, stopped payment, etc.) one additional attempt will be made by the club administration to collect payment. If payment continues to be in arrears, the skater will be considered not in good standing with the club and will not be permitted to participate in any of the club activity, including regular skating sessions, until such time as full payment has been made. If payment has not been made within 30 days from date of missed payment, the member shall be considered as having terminated their membership. No refunds will be provided for any partial monies paid and all privileges will be permanently revoked.
Withdrawals/Refunds
To request a refund, skaters must formally withdraw from a program, freeing their spot for another skater to enroll. A skater who remains registered in a program will not be reimbursed for occasional sessions missed, regardless of reason.
All refund requests must be made in writing and include (where applicable) all required documentation.
Refund requests may take several weeks to consider and process.
CanSkate registration will be refunded if the request is received before the third session of the block begins. Refund requests received after this time will be denied. (Effective Oct. 21, 2021).
All refunds will be pro-rated from the last day of skating.
All approved requests for refunds will be issued to the member, by cheque or credit (at discretion of the registrar), within 14 days of approval.
A processing fee of $25 will be charged.
Administration fees and Skate Canada membership fees will NOT be refunded.
At any time during the skating season:
A refund will be given on a pro-rated basis for medical reasons when a medical certificate is provided. Claims must be made within 30 days of the injury. Refunds will be pro-rated from the last day of skating.

Prior to the onset of the season:
A general explanation is required with reason for cancellation or withdrawal and must be made 3 business days prior to lesson start date.

After the onset of the season:
If a skater withdraws during the season and does not meet the above criteria, a written request must be sent to mjsc@live.ca. If approved by the registrar, the refund will be provided on a pro-rated basis from the last day of skating.

Exceptions to this policy are at the discretion of the Executive.


STARSkate Program Levels

MJSC uses the following qualifications to set program levels within the club:
Bronze Star - working on Star 1 or 2 freeskate
Silver Star - working on Star 3, 4, or 5 freeskate
Gold Star - working on Star 6 or up freeskate, or over the age of 13
Competitive - competing at Sectionals or Winter Classic in Pre-Juvenile, Juvenile, Pre-Novice, Novice, Junior, or Senior categories

Exceptions to this policy are at the discretion of the Skating Director.
STARSkate Buy-on Policy
MJSC Members
Buy-ons may be available after registration for a session is closed. The request may not be granted if the buy-on session requested is full or if the skater is not qualified to skate on the session requested. Members can buy-on to any Team Training or Open Session. Buying additional ice does not include coaches' time or a programmed lesson. It is the skater's responsibility to schedule time with his or her coach and to inform the Skating Director. Payment must be made online. Buy-ons can be purchased here. Payment must be made online and must be paid in full before the skater takes the ice.
Non-members
Non-members may be permitted to buy on to Open Sessions. The request must be made in writing to the board of directors of MJSC at mjsc@live.ca and it will be considered at the next board meeting. A response to the request will be provided to the skater within 48 hours of the board meeting. Please allow up to 30 days for this process, as the board meets no more than once each month.
All non-members skating on MJSC ice will pay buy-on rates for every session. Payment must be made online and must be paid in full before the skater takes the ice. Coaching may be provided if the request is made in writing to the skating director, 48 hours in advance of the session. Buy-ons can be purchased here.
If a non-club coach wishes to coach a non-member during MJSC ice time, the request must be made in writing to the board of directors of MJSC at mjsc@live.ca and it will be considered at the next board meeting. A response to the request will be provided to the coach within 48 hours of the board meeting. Please allow up to 30 days for this process, as the board meets no more than once each month.
Registration Wait List
Skaters are encouraged to add their name to the registration wait list when a session they wish to purchase is full. This is the only time that skaters will be allowed to add their name to a wait list. If and when a session has a spot available, the skater will be contacted to complete their registration and payment for the session.
Release
All registered skaters accept and release, from any and all claims, the Moose Jaw Skating Club, it's directors, employees and coaches and agree that none of them shall be held responsible for any accident, injury, or loss, however caused, whether on or off club premises, ice or other facilities. All registered skaters accept and give permission to the Moose Jaw Skating Club to photograph/video the registered skater for the purposes of club advertisement and promotion. All registered skaters are aware that these photographs/videos and/or the registered skaters name may be used on the club's website, newsletter, sent to the media or used in other club promotions.
Skate Canada Fees
All skaters must be members of Skate Canada in order to be eligible to skate on any of the Moose Jaw Skating Club sessions, receive badges, try tests, or compete in any category. This involves an annual fee as set by Skate Canada. Annual memberships expire August 31. Skaters must renew their memberships each year.
Privacy Policy
We respect your privacy and are committed to maintaining your confidence and trust. Accordingly we maintain the following privacy policy to protect personal information you provide online. Any information you give to us will be held with extreme care and will not be used in ways that you have not consented to.
If you choose to email us and provide personally identifiable information about yourself, we will not use the information for any purpose other than to respond to your inquiry. We do not sell, rent, loan, trade or lease any personal information collected on our site. Our web site logs are not personally identifiable and we make no attempt to link them with the individuals that actually browse the site.
If you have any questions concerning this privacy policy, please don't hesitate to contact us.
The following private information will be shared with Skate Canada every time the Skate Canada number is created / renewed or updated: first name, last name, address and birth date of the skaters (identified as the participant in the website).
Bottom Content Title
This is an additional section to be able to add content